5 good reasons for using a #FanWall!
The COVID-19 pandemic has disrupted the whole world and our economy. Today it continues to make life difficult for all industries and especially the entertainment and sports ones. Events cancelled, concerts postponed, closed-door matches... Fans are invited to stay at home and players, artists or even organizers intended to do the show without a physical audience. Yet there is
a great solution to stay connected with supporters and fans around the world without any risks
... Discover what is a FanWall and our 5 good reasons to use it, love it and
adopt it
!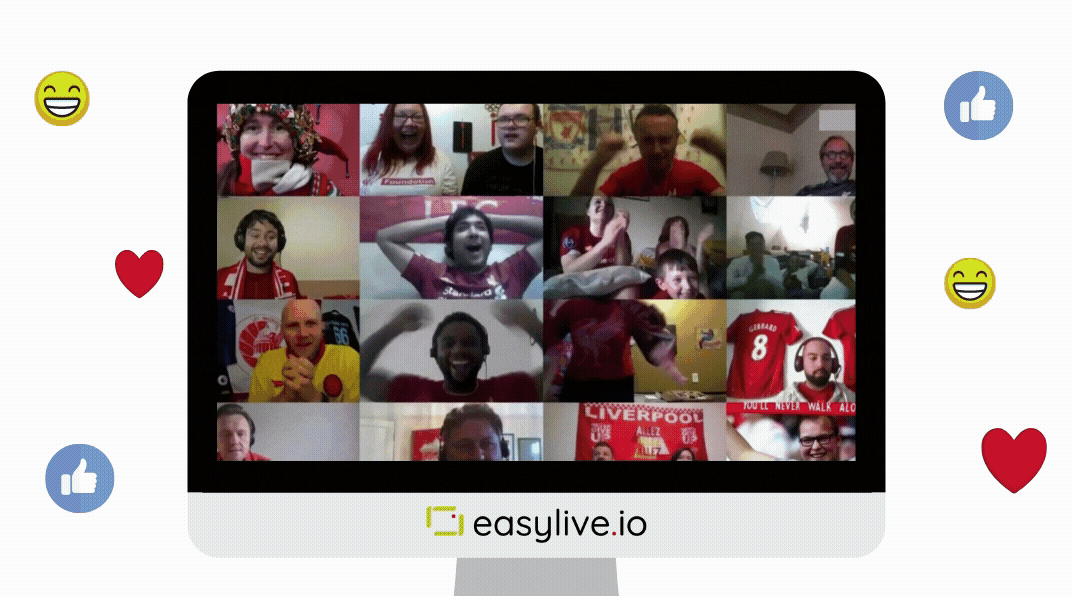 What is the #FanWall.tv ?
Get fans involved remotely!
The #FanWall.tv is a remote guest technology powered by easylive.io. This innovation retrieves fans' cameras live stream in 1 click and gives them a chance to appear on a live "video mosaic" streamed on giant screens inside stadiums during match days as well as on TV! It responds to an immediate need with the aim of re-establishing a real-time connection and interactions between fans and their sport teams or their favorite artists.
Especially for the Sport industry, the #FanWall.tv is the best way to provide the players with a "supporter atmosphere" and to let fans continue to be part of the show remotely, no matter where they come from, no matter the borders situation.
With this live technology you will be able to capture the authentic buzz and emotions of an audience inside a venue and at home spontaneously on the screen. It's Zero delay for 100% emotions! 
5 good reasons for using the #FanWall.tv technology!
A new digital fan is born!
#1

- A good alternative to the COVID restrictions 
With the #FanWall.tv technology fans will continue to be part of the show without any risks. As producer, you also will be able to ensure a fully remote production! 
#2

- The best way to involve your fans community
Even at the end of the health crisis, you will continue to engage your fans around the world and you will give them the opportunity to participate and support their team, no matter where they come from, no matter the borders situation. With the #FanWall.tv, no one is left behind. Indeed, this remote technology also reducing inequalities by offering a solution to those who can't support their team for financial reasons, distance or even handicap. It creates a new link between people and values each and everyone of us.
#3

- Monetize your Fanwall providing a new digital experience for supporters
At first, you could provide a #FanWall.tv access via contests or sweepstakes, but you can go even further by offering virtual seats in a special offer on your website. It's a new way to jump-start the economy with an innovative and easy-to-set up solution for clubs. With easylive.io #FanWall, you will be able to adapt and market a new digital offer adding fans but also sponsors.
#4

- To increase your audience commitment 
It is proven, the fans who appear in the easylive.io #FanWall get involved even more than fans present in the stands. Big screens highlights and TV transitions has a lot to do with it!
#5

- A guaranteed visibility on social networks
Supporters will always be your best spokespersons! They will share photos of them on the #FanWall or on TV everywhere and especially on social networks.
Finally, sports promotes health, well-being and it also brings entertainment. It's essential to be able to continue to convey its values to the young generation especially during a global pandemic preventing group and physical sports practice.
Learn more about #FanWall.tv, the new easylive.io service!