You just received an invitation to stream your feed on easylive.io
Here are a few things to check before you begin
Network:
Make sure you are not behind a vpn and/or a firewall (more information here).
Make sure you don't have any plug-in installed that prevents WebRTC protocol to work.
Make sure that you have enough bandwidth to send in the required quality (Speedtest).

Please note that we recommend the following bandwidths depending on the desired sending quality:

0.5 Mb/s to stream in the minimum required quality.
1.5 Mb/s to stream in 480p SD.
2.5 Mb/s to stream in 720p HD.
4 Mb/s to stream in 1080p HD.

The use of a wired connection is highly recommended.
Device:
We strongly recommend the use of a computer or laptop connected to the Internet by wire because mobile devices are not as much reliable, for instance, an incoming call will have the priority on anything else running on your mobile.

Close all unnecessary apps.

If you're using a mobile device:

Keep the auto-rotate feature enabled.

Being on LTE might a better option than your wifi.
Audio:
Wired headsets are recommended to improve your experience and avoid any echo or sound loops.
Browser:
PC, Mac, Linux, Android users, please use the latest version of Google Chrome.
Iphone/Ipad (IOS) users, please only use the latest version of Safari.
Some tricks before getting started
When you click the URL received from your producer, make sure that you "Allow" the microphone and camera use.
If you don't see the authorization prompt: shut Chrome down and restart it.
If you still don't see the prompt, try with another browser like Firefox.
You should see your video & audio feedback (A & B).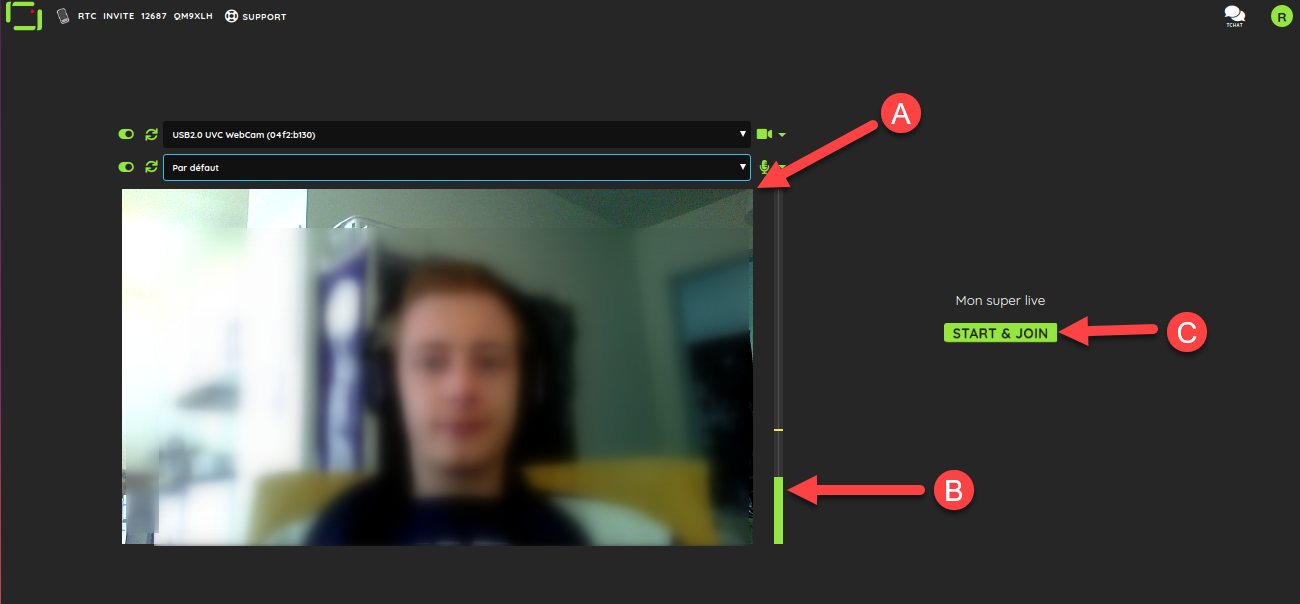 Do not forget to click on "START" (C), else your device will not be streaming your video and/or sound.

You should always hold your mobile device horizontally (landscape mode).

Try to seat in a place with a nice light (the darker your environment will be, the fewer the quality will be).

Show up on time, at least 

30 mins prior to your event to ensure you have enough time to test 

everything with your remote producer.
Once in live you can:
Go full screen (1).

Resize the windows (2).
Need some help? Otherwise, enjoy!